About Andros, Greece
Andros is an island in the Cyclades group. The island of Andros is mainly mountainous with many well-watered valleys. The island is well-known for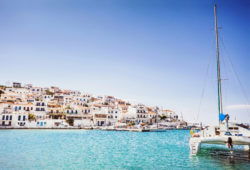 its Sariza spring at Apoikia. The water there flows from a lion's head that is sculpted out of stone. The ancient capital of Palaeopolis was built into a steep hillside. The ruins of Palaeopolis contain a temple dedicated to Dionysus. The breakwater of its harbour can still be seen underwater.
During the Final Neolithic period, Andros had a fortified village on the west coast of the island. Archaeologists have named this village Strofilias after the plateau it was built on. Strofilias was related to the Attica-Kephala culture and predates the Cycladic culture of the Bronze Age. It is one of the earliest fortifications of Greece and appears to have been an important maritime center. Strofilias features rock carvings of animals on its walls.
During ancient times, the island of Andros had an Ionian population, possibly with Thracian ancestry. It's been considered that Andros was originally dependent on Eretia, but by the 7th century BC had become self-sufficient. In 480 BC. The island supplied ships to Xerxes and was subsequently harried by the Greek fleet. In 200 BC, Andros would be captured by the Roman, Pergamene, and Rhodian fleet. It would remain under the Kingdom of Pergamon until the kingdom dissolved in 133 BC.
On May 10, 1821, Theophilos Kairis (a leading greek intellectual) raised the Greek flag at the Church of Saint George, declaring the island of Andros' participation in the Greek War of Independence. After independence was won, the island would become a major center of Greek shipping. The decline in other shipping centers such as at Galaxeidi and Hydra Island helped in Andros' rise.
Administrative Region of Andros Island, Greece
South Aegean
Area of Andros Island, Greece
380 km2 (150 sq mi)
Population of Andros Island, Greece
9,221
Top Attractions in Andros Island, Greece
Castle of Faneromeni – Located near Kochilos. The castle dates back to the Middle Ages. It was built to protect the island from pirate attacks.
Cyclades Olive Museum – Located near Menites, in the mountainous village of Ano Pitrofos. This museum is housed in a restored old mill. The building dates from before 1857 and was likely operating in the 18th century.
Hellenistic Tower of Agios Petros – A well-preserved tower located on a hill overlooking the bay of Gavrio. Built during the Hellenistic era, in the 4th or 3rd century. The tower is 20 meters high and used to have five floors, which were connected with a helical ladder.
Achla Beach – 10 km north of Chora. This beach is secluded and non-organized. This beach features soft white pebbles, crystal water, and a small river that ends near the beach.
Agios Petros Beach – A well-known beach on Andros, located 30 km from Chora. Agios Petros has a long sandy beach and crystal water. It is a partly organized beach with water sports available.
Goulandris Museum of Modern Art – This museum is in Chora and was established in 1979. Local and foreign artists are showcased here. Sculptor M. Tombros who was from Andros has work featured at the museum.
Nautical Museum – This museum is housed in a Neoclassical mansion in Chora, in the square of the unknown soldier. The location gives a great view of the Aegean Sea. Museum features nautical items including shipping documents, costumes, models of old and new vessels.
Watermills – The Andros watermills and windmills can be found in Korthi. There are 40 windmills, mostly located in Dipotamata, but also in Piso Meria and Vouni. These windmills and are a great example of pre-industrial technology.
Basti Beach – 22 km west of Chora. The sand if soft and the water is shallow making it perfect for families. The beach is partly organized and water sports are available.
Kypri Beach – 28 km west of Chora. A small, sandy beach that is partly organized. There are hotels and taverns nearby as well as tourism facilities.
BELOW ARE INTERESTING ARTICLES ABOUT ANDROS, GREECE: