The Date of Christmas and the Greek Orthodox Church
Written by Andrew Athanasiou in Greek Christmas Traditions Comments Off on The Date of Christmas and the Greek Orthodox Church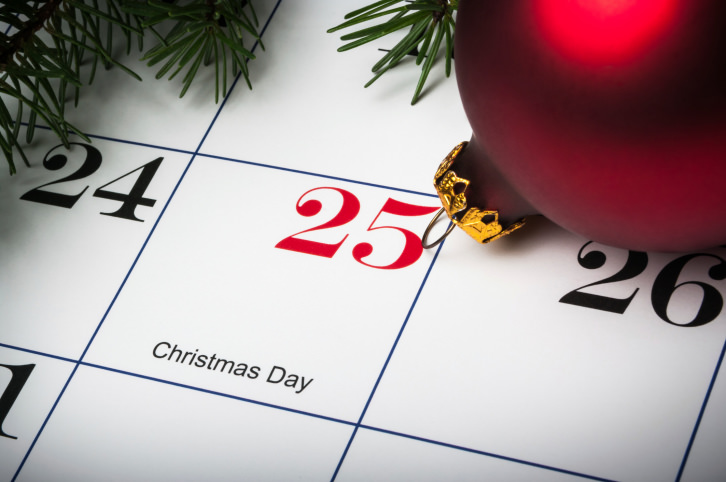 'Tis the season folks! We are all counting down the days until December 25th, but do we even know when Jesus was born? If we look in the Gospel accounts of the Birth of Christ, we never find a date or season or any such clue to learn the timing of Christ's birth. So why is December 25th the official date of Christmas?
There is a suggestion that the earliest Christians did not celebrate the birth of Christ, as birthdays were considered a pagan holiday. As such, those in the Church strictly tried to avoid said holidays (they even didn't use incense for a while because it was associated with pagan worship).
Once the stigma of avoiding these pagan holidays ceased, many Christians had different dates for Christmas, with none of them being December 25th, but there was also no day that everyone agreed upon. The first mentioning of Christmas being on December 25th came in 336AD, during the time of the Emperor Constantine.
There are two theories to why December 25th was chosen as the date of Christmas. One was that there was an early Christian tradition of March 25th being the Annunciation of the Good News from Archangel Gabriel to the Theotokos. If you add 9 months to that date, you get December 25th. In 386AD, St. John Chrysostom confirms this date and gives his calculation based on the birth of St. John the Baptist, which is related to Christ's birth as the Theotokos had visited her cousin Elizabeth (mother of St. John the Baptist) in the 6th month of her pregnancy. Another later thought is that the celebration of the Winter Solstice is around this date and that there were Roman festivals. These festivals were called 'Saturnalia' and 'Dies Natalis Solis Invicti' meaning "Birthday of the Unconquered Sun."
Regardless of who is right (or if anyone is right), we Christians celebrate Christmas on December 25th. All Orthodox Christians celebrate Christmas on December 25th. Okay, before you start bringing out your pitchforks to tell me that our Slavic brethren celebrate on January 7th, let me tell you why both are actually December 25th. There is a different between the Julian and Gregorian calendar of 13 days. We all used to be on the Julian Calendar, but noticing that the days and the events (hours of light, day of equinoxes, etc.) weren't matching up, some Orthodox Christians jumped to the Gregorian Calendar.
The modern world follows the Gregorian Calendar, so for the Orthodox that switched calendars, if today is December 1st, we are celebrating December 1st in the Church Rubrics (our brethren are 13 days behind, so on our December 1st they are celebrating November 18th in the rubrics). From what I understand, Mount Athos remains on the Julian Calendar, and even though many monasteries are Greek, they are celebrating Christmas on what we know as January 7th (but they still call it December 25th).
In case you were wondering, the 12 days of Christmas are not the days in between December 25th and January 7th, but rather the 12 days celebrating Christmas before the great feast of Epiphany (Jan 6th).
About Andrew Athanasiou
Andrew is a student of Holy Cross Greek Orthodox School of Theology, located in Brookline, Massachusetts. Andrew is a Masters of Divinity Student who is also a Seminarian. Andrew is from Pittsburgh, Pennsylvania, and his knowledge comes from five major sources: Greek Orthodox Seminary; Greek Orthodox Summer Camp; both being taught and teaching in Greek Orthodox Sunday School; and finally further readings and interests in other theological areas.
Categorized in: Greek Christmas Traditions
This post was written by Andrew Athanasiou
Like this article? Please share below: