About Paros, Greece
Paros is an island in Cyclades group in the Aegean Sea. The island is a plump pear-shape that is formed by one mountain, which slopes down evenly on all sides. The island is composed of marble. The island of Paros was once well-known for its white, translucent marble. Much of the island's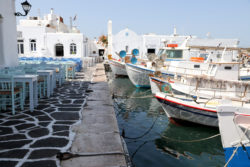 wealth came from its marble. From the 6th century on, marble would be exported. It was used by Greek sculptures such as Praxiteles. Praxiteles of Athens was the first to sculpt the nude female form in a life-size statue. The term "Parian" describes marble or china that has similar qualities. Nowadays the marble quarries and mines of Paros are abandoned. Much of the remaining white marble is now state-owned and only used for specific projects such as archaeological restorations.
Parikia, the capital of Paros Island, is located on a bay on the northwest side of the island. It is the site of the ancient capital Paros. In Parikia Town, the houses have whitewashed walls, flat roofs, and doors, window frames and shutters that are painted blue. The houses give the town a charming and picturesque look and feel.
Ancient names for the island of Paros include: Plateia, Demetrias, Strongyle (which means round), Hyria, Minoa, and Cabarnis.
In 1537, the Ottoman Turks conquered Paros. Paros Island would remain under the Ottoman Empire until the Greek War of Independence (1821 – 1829). Under the Treaty of Constantinople of 1832, Paros would become part of the Kingdom of Greece. It would be the first time Parians had been ruled by fellow Greeks in more than six centuries. Manto Mavrogenous, a heroine of the national movement, would make her home on the island at this time. Her house is now a national monument.
Administrative Region of Paros Island, Greece
South Aegean
Area of Paros Island, Greece
196.3 km2 (75.8 sq mi)
Population of Paros Island, Greece
6, 058
Top Attractions in Paros Island, Greece
Old Port of Naoussa – An old fishing village in the northern part of Paros Island. Restaurants, cafes, and boutiques fill the village. Eating a meal by the water is a real treat.
Lefkes Village – A traditional and charming village. Areas of the village seem frozen in time and life moves at a slower pace. Enjoy good food and hospitality here.
Kolymbithres Beach – A beach flanked by large rocks, so there isn't much wind. Crystal clear waters and lovely sand make for enjoyable sunning and swimming. Several bays and a tavern for food and drinks.
Thanasis Farm – If you love horses, you'll want to visit Thanasis Farm. Take lessons and ride the trails. Enjoy the view and peaceful atmosphere.
Monastery of Agios Antonios – A climb is worth the view from the monastery and the monastery itself. Layered structures from ancient Greek to Venetian to Byzantine. The history of the monastery is worth exploring.
Marathi Marble Quarries – Off the main road between Lefkes and Parikia. Despite a lack of information at the site, you can sense the history. Possible to explore one or two mine shafts.
Santa Maria Beach – Located in Naoussa at Plastira Bay. A quiet, organized beach. The perfect place to visit if you enjoy scuba diving or snorkeling.
Paros Ancient Cemetery – A must-see if you're visiting Lavidia Beach. A small, ancient cemetery with tombs and marble gravestones. You won't want to miss this quick stop if you're into history.
Delion Sanctuary of Apollo & Artemis – Experience ancient Greece at this site. Get a feel for the culture and religion with a guided tour. Amazing view of almost 360 degrees.
Folklore Art Museum – Hand made miniatures made by Benetos Skiadas. Features war ships, merchant ships, and fishing boats. These are exact replicas of genuine models.
BELOW ARE INTERESTING ARTICLES ABOUT PAROS, GREECE: