St. Achaicus Orthodox Saint History and Name Day Information
Written by Greek Boston in Ancient Greek History, Greek Orthodox Religious Information Comments Off on St. Achaicus Orthodox Saint History and Name Day Information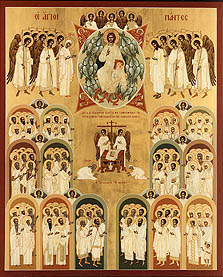 There's no doubt that the saints, or apostles play an important role in the Orthodox Christian Church. There are two categories of apostles – the original Twelve Apostles and also the Seventy Apostles, which are largely understood to have been alive around the same time as the original twelve and also a little bit after the twelve preached the good news. These Seventy were instrumental in continuing the work of preaching the news about Jesus Christ.
It is a great honor to be named after any one of the saints. In fact, in some cases, the name day is celebrated by individuals as if it were their own birthday. Saint Achaicus, also referred to as the Apostle Achaicus or Saint Achaicus of Corinth, is one of these saints. His feast day is celebrated on both June 15th and January 4th. Here's more information about this Saint:
Life of Saint Achaicus
Achaicus, also referred to as Achaicus of Corinth, was one of the Seventy Apostles who preached the good news of Jesus Christ. Not much is known about this Apostle, but he is mentioned in the Bible in 1 Corinthians. Saint Paul referred to him in 1 Corinthians 16:17 saying, "I am glad of the coming of Fortunatus and Achaicus: for that which was lacking on your part they have supplied. For they have refreshed my spirit, and yours."
We do know that he was from Corinth and that he carried a letter from Corinth with two other Christians, Stephanas and Fortunatus to Saint Paul himself. So it is clear that Achaicus knew had at least met Paul. According to Church tradition we also know that he is on of the Seventy Apostles, and this information was derived from other historical sources. It is well understood that the Seventy were called in the Book of Acts to carry on the work of preaching about Jesus Christ throughout the world.
Hymns of Saint Achaicus
Like most of the saints, there are some hymns that are sung in honor of Saint Achaicus during the Greek Orthodox Christian church service, also referred to as the Divine Liturgy. Here are details of the hymns. They are mainly sung in Greek, but the English translation is popular as well, depending on where in the world the church is:
Troparion (Tone 3)
Holy apostle Achaicus of the Seventy;
Entreat the merciful;
To grant our souls forgiveness of transgressions.
Kontakion (Tone 4)
The Church ever sees you as a shining star, O apostle Achaicus,
Your miracles have manifested great enlightenment.
Therefore we cry out to Christ:
"Save those who with faith honor Your apostle, O Most Merciful One."
Saint Achaicus name day is on June 19th of each year. Visit the  Name Day page for more information about other Orthodox Christian name days.
Sources:
Orthodox Wiki – Apostle Achaicus
Wikipedia – Achaicus of Corinth
Source for Photo Credit for Image Above
Categorized in: Ancient Greek History, Greek Orthodox Religious Information
This post was written by Greek Boston