Orthodox Saint Christina History and Name Day Information
Written by Greek Boston in Ancient Greek History, Greek Orthodox Religious Information Comments Off on Orthodox Saint Christina History and Name Day Information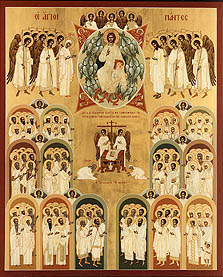 There were plenty of women who played an important role in the early life of the Orthodox Christian Church, and many of these are now saints. It is considered an honor to be named after one of them, and parents take their time to choose a special name that they will love to celebrate. Each year, Orthodox Christians celebrate their name days, which falls on the feast day of their saint, as if it were their own birthday. In fact, many prefer to celebrate their name days rather than their birthdays.
Saint Christina of Tyre is one of those saints, and Christina is also a popular female name in Greece and other Orthodox Christian countries.  Her feast day is on July 24th of each year and she is celebrated on the same day as her son. Here's more information about Saint Christina:
Life of Saint
Christina
There is actually more than one Saint Christina in the Orthodox Christian church, so she is referred to as Saint Christina of Tyre or Holy Glorious Great-Martyr Christina of Tyre. She is one of the saints who lost her life because of her Christian beliefs. She was alive well after Christ walked the earth in the 3rd Century A.D. Born to a wealthy family who also had pagan beliefs. Her father, a wealthy general named Urban, refused all of her suitors because he wanted her to be a pagan priestess.
Instead, Christina became a Christian. While meditating, she realized that all of her pagan idols were created by humans and that there was only one God. This started her on the path of living a Christian life. Shortly after this, God sent an angel to her and this angel told her all about Jesus the Messiah. He instructed her to smash all of her idols so she destroyed them. Her father noticed the idols were gone and asked Christina where they were. She didn't tell him but he found out where they were from the servants. He raged when he found out and slapped her and put her in a cell. Her mother urged her to renounce her faith, but she didn't. Her father ordered that she be tortured. After the torture, he threw her back in the cell.
An angel appeared to her and healed her wounds. When her father saw she was unharmed, he ordered that she be thrown in the sea. They tied a stone to her so she would sink. She didn't sink and emerged from the water. Her father then used sorcery and decided to execute her, but instead he died that night. Governor Dion took her father's place. Christina still refused to renounce Christ. Eventually, she lost her life when her heart was pierced with spears by Dion's soldiers.
Hymn of Saint Elizabeth
Saint Christina is celebrated with a special hymn. It is also called the Troparion of Saint Christina and the Kontakion of Saint Christina. Here's more information:
Apolytikion – Tone 5
Your lamb Christina, O Jesus, Calls out to You in a loud voice: I love You, O my bridegroom, And in seeking You, I endure suffering. In Baptism I was crucified so that I might reign in You, And died so that I might live with You. Accept me as a pure sacrifice, For I have offered myself in love. By her prayers save our souls, since You are merciful.
Kontakion – Tone 4
O Venerable Christina, You appeared as a shining dove, With a pair of golden wings Alighting in the Highest Heavens. Therefore we celebrate your glorious feast And bow before the place that holds your relics. Pray that we may receive grace and healing for body and soul.
Saint Christina's name day is on June 24th of each year. Check the Name Day page for more information about other Orthodox Christian name days.
Sources:
Orthodox Wiki – Christina of Tyre
Source for Photo Credit fro Image Above
Categorized in: Ancient Greek History, Greek Orthodox Religious Information
This post was written by Greek Boston