Best Ways to Pair Greek Wine With Food
Written by Greek Boston in Greek Cooking Comments Off on Best Ways to Pair Greek Wine With Food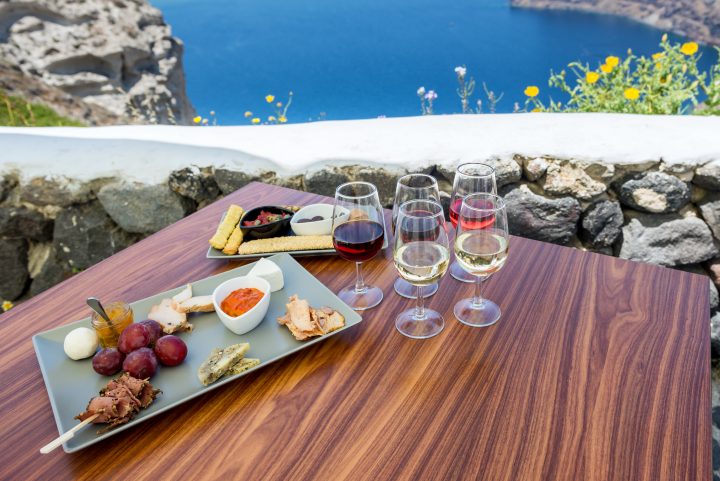 Wine has been produced in Greece for thousands of years. The climate is absolutely perfect for certain grapes, such as assyrtiko, which is responsible for some of the white wines, xinomavro, which is used to make certain red wines. Although the earliest evidence of winemaking in Greece has been traced to over 6500 years ago, it wasn't until the 1970's that modern winemaking started to find its roots in the country. Today, there are plenty of wineries located throughout the country.
One of the greatest pleasures of drinking wine comes when you pair the right varietal with the right foods. Even though we may not really think about it like this, the right wine can enhance the food you are eating, and vice versa. Here is some advice that will help you pair Greek food and wine together:
The difficult thing about meze, or Greek appetizers, is that the collection of food can be somewhat random. This means that you need a diverse wine that won't conflict with any of the flavors. For this, sturdy red table wines seem to get the job done pretty well, such as a nice Agiorgitiko wine. This is a flavorful wine that still has a lighter body, which allows it to stand up to the random flavors presented in a typical meze spread.
Romeiko is a unique wine because the grape is exclusive to the Chania area of the island of Crete. This dark skinned wine actually produces a light, white wine that tastes especially delicious with typical Greek vegetable dishes, such as Briam, a braised vegetable dish, or. even Horiatiki, the typical Greek village salad.
Seafood usually responds very well to white wines, especially a grape like Rhoditis, which grows well in Rhodes. However, on some occasions, a red wine might be best, especially if the dish involves tomato or another stronger ingredient. Even if that is the case, lighter wines tend to suit seafood the best.
Most meats go best with hefty red wines of all types, as long as they aren't sweet. One of the best Greek red wines for meat dishes that involve heavier meats, such as lamb, are those made from the Xinomavro grape. This dark, full bodied wine can stand up to the stronger flavors of the meat, while also balancing out the flavor of the wine.
Poultry dishes are interesting because they actually go great with Greek wines of all types, especially since poultry is so versatile. Dishes with a lighter hand when it comes to seasonings, such as roasted chicken, tend to do best with white wines. Heavier dishes, such as kapama, tend to do better with stronger red wines, such as the Xinomavro grape listed above.
There is a lot of variety when it comes to Greek pastries and desserts, but the one thing they all have in common is that they go great with sweet wines. The most popular of these sweet dessert wines is Mavrodaphne, which is a fairly common red dessert wine that can be found in stores throughout the world. The sweetness of the wine goes great with just about every Greek dessert!
When it comes to pairing Greek food and wine, there really is nothing wrong with doing whatever strikes your imagination. Wine is subjective, and you are welcome to pair any wine you like with the food you eat. These are simply our suggestions. Visit this page for more information about Greek wines. 
Categorized in: Greek Cooking
This post was written by Greek Boston
Share this Greek Cooking Article: