Top Greek Recipes That Use Feta Cheese
Written by Greek Boston in Greek Cooking Comments Off on Top Greek Recipes That Use Feta Cheese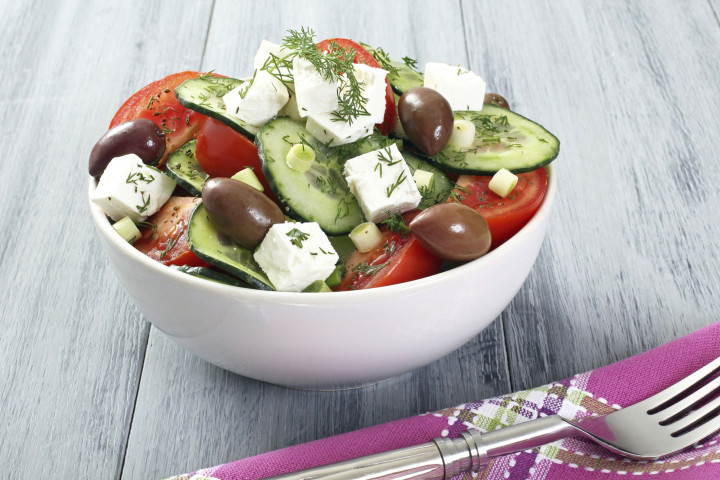 Feta cheese is a Greek staple. There are strict rules as to how to make this popular cheese, and only Greek feta has the distinct salty tang that makes it an essential part of the cuisine. Greek feta was awarded PDO status (protected designation of origin) in 2002, which means that making it is a specific process. It is also an essential part of some of the most delicious recipes in the cuisine.
Here is a roundup of our favorite recipes that involve Feta cheese:
This is the most traditional and popular of all the Greek salads. Horiatiki is made with the freshest vegetables popular, such as tomatoes, cucumbers, onions, Greek olives, and feta cheese. It is finished with some traditional Greek olive oil and Greek oregano. It's a staple at just about every Greek dinner table.
Spanakopita, or spinach pie, is one of the most popular of all the savory dishes in Greek cuisine. Spinach is used whenever it is available, but it also tastes delicious with other greens. The version that uses other greens is called "hortopita". Both versions use a lot of feta cheese and make for a delicious addition to any meal.
Bruschetta isn't classically a Greek dish, but you can easily use Greek ingredients like feta cheese to give it a Greek flair. This recipe makes a great addition to any Greek table as a side dish, appetizer (mezze), or as a simple snack. I like to finish mine off with some authentic Greek olive oil and Greek oregano.
When you visit the tavernas and restaurants of Greece, it is pretty common for the table to be filled with simple dishes to snack on. You could be at these places for hours, and snacks like this whipped feta spread taste delicious with fresh bread. The ingredients are simple, as well. All you need is some feta cheese, Greek olive oil, and authentic oregano. To give it a whipped, frothy appearance, you will want to mix it in a blender or food processor.
Tiropita, or cheese pita, is another dish that uses plenty of feta cheese. In this recipe, a creamy cheese mixture that usually involves mixing feta with a creamier cheese, like ricotta, are baked in between layers of phyllo dough until crispy. This dish is a staple all over dish. The fun of it is that you can actually change the cheeses depending on what you have on hand, as long as feta is included in the mix!
Did you know that feta cheese tastes delicious baked? The cheese gets really creamy when it is baked in the oven, but you need to be careful! If it isn't authentic Greek feta cheese it doesn't melt as well. In this recipe, the tomatoes provide the perfect complement to the feta cheese.
Feta is a staple of Greek cuisine and these dishes all taste great with it!
Categorized in: Greek Cooking
This post was written by Greek Boston
Share this Greek Cooking Article: