Greece's Second City: Thessaloniki
Written by GreekBoston.com in About Thessaloniki, Greece, Greek Travel Guide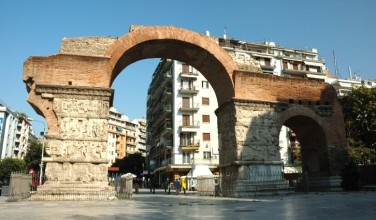 Thessaloniki is Northern Greece's liveliest town and is second only to Athens in terms of cultural events, nightlife, shopping, and dining. As Northern Greece's central transport hub you can easily travel to and from other areas in the region and neighboring countries. It's a college town that houses more than 80,000 university students, which means that Thessaloniki is a lively place throughout the year and not just during high tourist season.
There are many sights to see in Thessaloniki. The White Tower is Thessaloniki's most famous landmark and is free to visit. Though it has a dark past (it was the location of a massacre in the early 1800's), it is now a top destination. It was named The White Tower after it was whitewashed in 1913 after the Greek reconquest. It now houses an interactive museum that presents Thessaloniki's history through several levels of multimedia displays that were designed by Apple. The Palace, Arch & Rotunda of Galerius is another popular sight in Thessaloniki. It is the three major Roman monuments associated with Emperor Galerius. The Palace of Galerius features floor mosaics and the Arch of Galerius features sculpted soldiers in combat. The Rotunda of Galerius is above the Arch and was built by Galerius as his future mausoleum, even though he never ended up using it. It was made Thessaloniki's first church by Constantine the Great.
Thessaloniki is the home to many beautiful Byzantine Churches, all of which can be visited for free. The Church of Agios Dimitrios is considered one of the grandest churches in all of Greece. It honors Thessaloniki's patron saint and features 8th century mosaics that span the altar. The Church of Agia Sofia is an 8th century church and is one of the most important churches in Thessaloniki. It features a mosaic of the Ascension of Christ in the dome. The Church of Panagia Ahiropiitos is a 5th century church that houses many surviving mosaics and frescoes. The Monastery of Vlatadon is in a secluded location and has a small museum and gift shop. The Church of Osios David is a 5th century church that contains well preserved mosaics and rare 12th century frescoes depicting the baptism of Christ. The Church of Nikolaos Orfanos is a 4th century church with frescoes. To preserve the frescoes candles can only be lit during Sunday morning mass.
There are also many museums to visit in Thessaloniki. The Archaelogical Museum showcases prehistoric, ancient Macedonian and Hellenistic items. It houses the Derveni Crater, a huge, ornate Hellenistic vase made of bronze and tin. It was used for mixing wine and water and as a funerary urn. Intricate relief carvings that illustrate the life of Dionysos with mythical figures, animals, vines, and ivy branches mark it. The Pre-Historic Thessaloniki exhibit features daggers, pottery, and tools from tombs dating from the Neolithic period to the late Bronze Age. The Museum of Byzantine Culture features a running wall-placard text that explains more than 3,000 Byzantine objects from the early Christian period to the fall of Constantinople. The Museum of the Macedonian Struggle has maps, old firearms, photos, uniforms, and more. The Thessaloniki Museum of Photography displays historic and contemporary Greek photography.
PLEASE NOTE: The Greek travel section at GreekBoston.com are not paid reviews. Our unbiased and informative travel articles are designed review the popular cities, islands and places in Greece. We are not always able to exactly match the photos to the destinations, but we do try to get close. However, we are not looking for photo submissions at this time. If you find something in a Greek travel article that is not accurate based on your personal experience, please send us an email to greekboston@worldwidegreeks.com and we will consider your suggestions. Thanks for reading the travel section at GreekBoston.com!
Categorized in: About Thessaloniki, Greece, Greek Travel Guide
This post was written by GreekBoston.com
Share this Greek Travel Article: