Map of Mykonos Greece
5 Ways to Experiencing the Nightlife on Mykonos Greece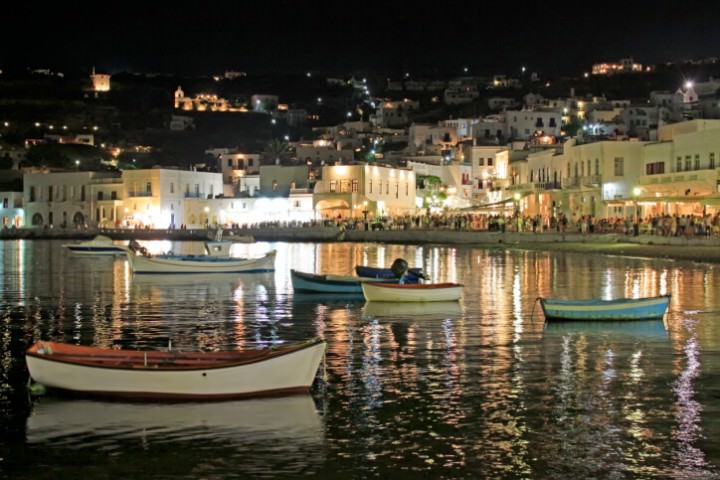 Mykonos is an island paradise located in the Cyclades, an island group located in the southern portion of the Greek islands. This island is one of the first to experience a thriving tourist trade. Advertising for Mykonos as a tourist destination began in the 1950's and as a result, attracted a jet setting, international crowd who was interested in having a good time. Here is some advice on what to do for nightlife during your stay on this beautiful island.
1) Eat a Great Meal
Before you hit the town, you will want to eat a great meal. Since the nightlife gets started late, the restaurants are also open late. The traditional cuisine is simple and flavorful and is centered on ingredients commonly found here like fish, onions, and wild greens. It's hard to find a bad meal here so you may want to ask your hotel for advice.
2) Drinks at Sunset
There are several bars that boast great views of the memorable sunsets on Mykonos. The bar and dance club, AT 54, is a good choice for those who are looking for drinks, music, and a chance to dance. Cooh Sunset Bar & Club is also known as being one of the best for viewing the sunset. Order a few drinks while enjoying your evening meal here. Both of these places are a great way to begin your night.
3) Traditional Greek Nightlife
If you want to spend your evening with other Greeks, the La Notte nightclub is the place for you. This club plays all the latest Greek dance hits with some international club music mixed in. This is the club to visit if you want to see how Greeks enjoy their nightlife.
4) Drink Champagne
Are you looking for something a little more refined? Bubbles Bar is a champagne bar that is situated right in the center of Mykonos Town. Here, you can listen to live music while drinking some of the best champagne on the market. It's a great option for those looking to take a breather from the more high octane nightlife options in Mykonos.
5) Visit a Hot Nightclub
The real party doesn't start until you hit one of the several hot nightclubs in Mykonos. Cavo Paridiso is one of the hottest the island has to offer. The club boasts multi-level outdoor dance floors that provide a breathtaking view over the cliffs of Paradise Beach. This is a great place to end your night because it offers some amazing views of the sunrise as well as some of the more intense features of the Mykonos landscape. It also has a full sized pool in the shape of the island.
Though much of Mykonos is centered on its nightlife, that's not all the island has to offer. You can spend your days shopping, exploring the island, and visiting one of the many beaches. Feel free to rent a vehicle so you can explore as much of the island as possible.
Like this article? Please share below: