Map of Santorini Greece
Best Villages to Visit on Santorini Greece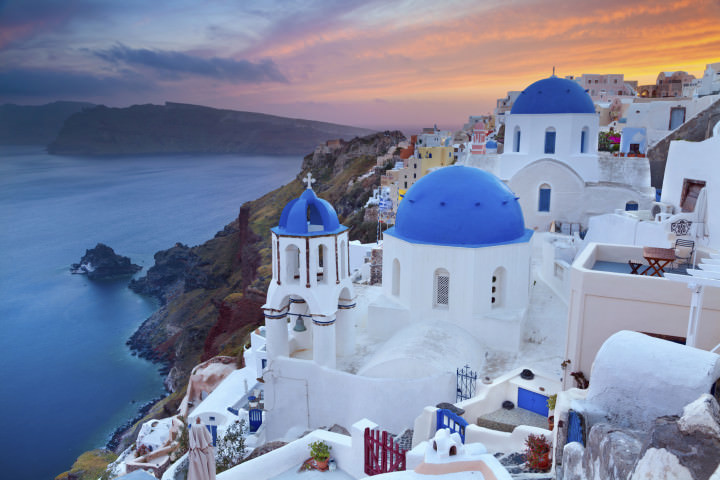 Santorini is one of those magical Greek islands that is so picturesque it looks like it can't possibly be that beautiful in person. Nothing can be further from the truth! The island really does look that gorgeous up close, and it's that very fact that enchants people and gets them wanting to come back for more.
One of the things that makes the island so beautiful are the scenic villages that dot the land. Some, like Oia, are perched on the edge of the ocean, overlooking the caldera. Others, like Pyrgos, are known for their glimpse into traditional Greek life. Here's an overview of the villages you absolutely must visit on Santorini while here.
Oia
If you only have a limited time on the island, you'll want to make Oia your first priority! Though many consider it to be a quainter version of Fira, the island's capitol, it has a character all its own and shouldn't be compared! For starters, the island boasts one of the best sunsets in all of Santorini, and the quaint shops and boutiques make for some interesting shopping. Spend your days walking the streets and then settle into one of the many restaurants and tavernas for a quiet night on the town.
Pyrgos
Pyrgos is a small village that is less than 10 km away from Fira, the island's largest city. The village itself offers visitors a perfect example of what Greek island life is really like. Not only that, but since it is perched on a fairly large hill, the view is pretty impressive. Although it seems pretty small now, back in the 1800's it was actual the capital of Santorini.
Firostefani
This village is the ideal place to stay if you want to enjoy the bustling activity of Fira without actually staying within the city limits. As a busy suburb, there are plenty of things to do in Firostefani without all the crowds. The view from Firostefani is also fairly unique and gives an interesting perspective.
Imerovigli
If you love architecture, you'll want to spend some time in Imerovigli. It's actually only 2 kilometers from Fira, but the pace of life here is slow and relaxed, which makes for a nice escape. This is the place to go if you want to enjoy the traditional architecture, which is fairly unique to Santorini. Nature fans will appreciate Scaros, a large rock that has an old castle perched on top if it.
Akrotiri
Red Beach is one of the most famous beaches on all of Santorini. Perched next to the famous beach, Akrotiri is the best place for you to base your trip. Besides being close to the beach, it also offers a glimpse into traditional island life, as well as a few stunning examples of some traditional architecture. Spend your days lounging on the beach, and then head to one of the restaurants or tavernas to enjoy the rest of your evening.
In Santorini, it's the villages that make it so enchanting. Each gives you a special glimpse into what life is really like on this magical island.
Like this article? Please share below: