Why Do Greek Orthodox Clergy Wear Vestments?
Written by Andrew Athanasiou in Greek Orthodox Religious Information Comments Off on Why Do Greek Orthodox Clergy Wear Vestments?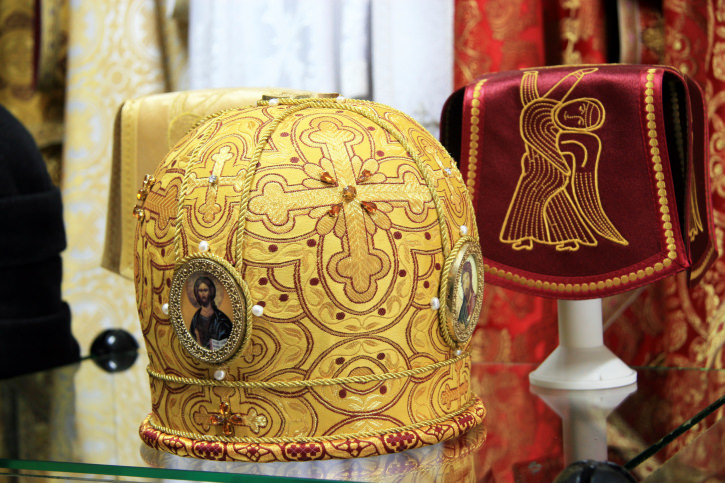 The Vestments of the Greek Orthodox Clergy can be historically dated back to the 300's AD. Some suggest it started earlier because the Church was being "raised" and flourishing in a Roman world, a world that was full of imagery in how one dressed. Roman soldiers and working men would never wear anything that went below the knee, for both a practical reason and for an understanding of one's civil stature. Just like a plumber would never wear a suit and tie to a job, this was the arrangement in the Roman world.
Emperor Constantine made Christianity a legal religion in the Empire and I'm sure this was either the beginning of the vesture being seen by the outside world or the beginning of the vesture period. Before this period, Christianity was not only illegal but those who practiced the religion were persecuted for doing so.
All of the vestments  (as they are understood), came from how the Romans dressed. This makes sense, since people could be identified by what they wore; the clergy had been given these distinctions. Another argument can be made that once Christianity became the official religion of the Roman Empire that the clergy stepped in a larger social role as well, and needed to be classified by their dress.
So yes, vestments probably originated as a product of their time and of the growing stature of the clergy. So one may ask, "Why aren't priests today wearing clothes of their time in Liturgy?" And the answer to that question is twofold. First, the classical roman garb reflected the garments worn throughout time. Only recently (in terms of human history) have pants been worn. If you look back into Genesis 3:21, you see that God made clothes for Adam and Eve. Even though His creation had sinned and became aware of their nakedness, God intervened at gave them clothes to wear. Regardless of the historicity of Genese, theologically we understand that God gave us clothing to wear. Many would suggest that the roman clothing was similar to the clothing worn throughout human history, making Christian vestments a beautiful and ornate version of these garbs.
This leads me to my next point. Our vestments are beautiful and ornate. (I can see some parish council members rolling their eyes as they read this statement). We have been duped by our Western brothers and sisters who have watered down the beauty of the Church to single colored walls (preferably white) and no vestments or very simple vestments. This is a travesty from an Orthodox standpoint. When we enter into Church, into the Divine Liturgy in particular, we are entering the Kingdom of God, Heaven on Earth.
The priest starts the liturgy with "Blessed is the Kingdom of the Father, and of the Son, and of the Holy Spirit, now and ever, and to the ages of ages." (Other services star with "Blessed is our God always, now and ever, and to the ages of ages.") The same reason why our Churches are typically adorned with icons, marble, gold, and silver, is the same reason why the vestments must be beautiful … we have entered into the Kingdom of God, who redeems all things. He redeems the earth, all matter, and us including clothes.
About Andrew Athanasiou
Andrew is a student of Holy Cross Greek Orthodox School of Theology, located in Brookline, Massachusetts. Andrew is a Masters of Divinity Student who is also a Seminarian. Andrew is from Pittsburgh, Pennsylvania, and his knowledge comes from five major sources: Greek Orthodox Seminary; Greek Orthodox Summer Camp; both being taught and teaching in Greek Orthodox Sunday School; and finally further readings and interests in other theological areas.
Categorized in: Greek Orthodox Religious Information
This post was written by Andrew Athanasiou
Like this article? Please share below: