Visit the Greek Orthodox Church of St. Demetrios of Thessaloniki
Written by Andrew Athanasiou in About Thessaloniki, Greece, Greek Orthodox Religious Information Comments Off on Visit the Greek Orthodox Church of St. Demetrios of Thessaloniki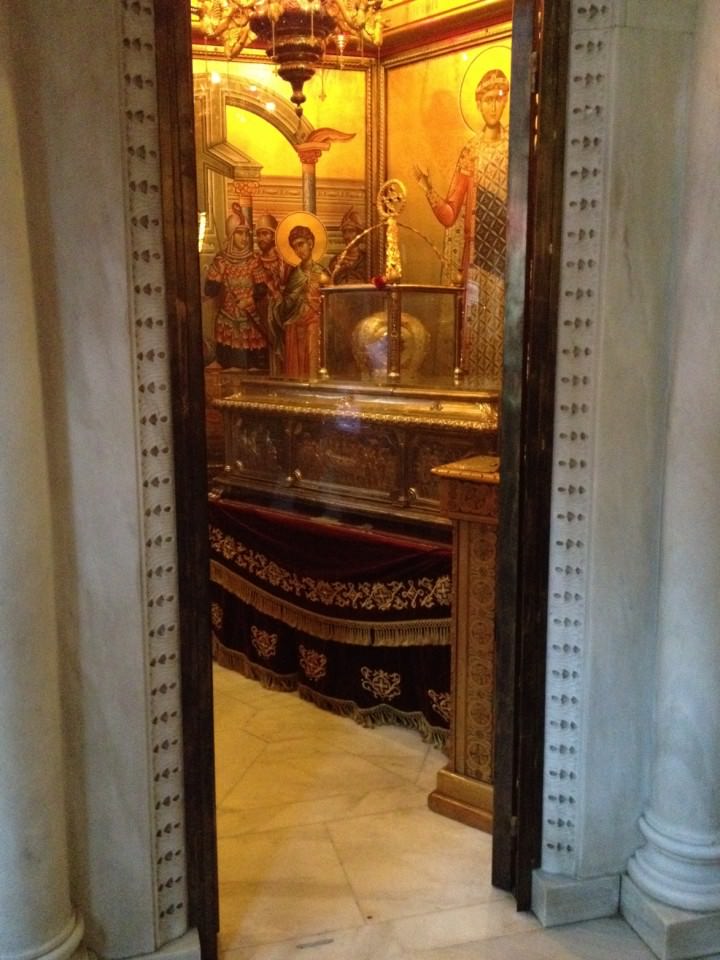 St. Demetrios is one of the most popular saints of all Orthodoxy and the patron saint of so many Orthodox Christians. Demetrios was born to a noble family in Macedonia. He had become a military expert and was appointed by the Emperor Galerius to be in charge of the Roman Forces in Thessaloniki. Galerius had become the Emperor of the eastern part of Roman Empire, which at this point was still persecuting and killing Christians. Galerius at this point must have been unaware of Demetrios' Christian beliefs.
If anyone has been to Thessaloniki, you may be familiar with the Arch of Galerius, which is close to the Rotunda. This arch shows Galerius being triumphant over the Persians and parading into Thessaloniki with the prizes of war including elephants and other things foreign to Thessaloniki. It is thought that when Galerius returned to Thessaloniki after his victory he was told that Demetrios was a Christian. Demetrios was imprisoned in a cell in the local Roman baths.
Galerius organized games and gladiatorial competitions to take place in Thessaloniki. A huge man named Lyaios was brought in, and he was supposedly heralded for being a Christian killer. A young man, one of Demetrios' fellow Christian brethren, named Nestor went to the imprisoned Demetrios to ask for his blessing to go forth into the stadium to compete against Lyaios. Demetrios gave his blessing and Nestor went to face his giant, in a new rendition of David and Goliath. When their competition began, Nestor called out, saying, "God of Demetrios, help me!" Nestor successfully defeated Lyaios. Galerius was upset with this and carried out the beheading of Nestor outside of the city walls and thinking that Demetrios had cast a spell, sent men to kill Demetrios with lances in his prison cell.
I was able to tour around Thessaloniki and visit the crypt of St. Demetrios, which is located under the altar of the Church of St. Demetrios. This crypt is the Roman bath, in which St. Demetrios was imprisoned, where he blessed Nestor, and eventually where he was martyred. Located back upstairs in the nave of the Church, currently is home to the relics of St. Demetrios, which are myrrh streaming. This means that there is myrrh that exudes out of the relics, which is offered to those who are anointed as a blessing and for healing, by God, through St. Demetrios. The smell of the myrrh is quite potent, even being able to be smelled from 10 feet outside the reliquary. I was blessed to bring a small portion home on a piece of cotton, and occasionally when I pass by my icon corner, I will smell the myrrh and be reminded of the virtuous life that this saint has lived.
Though initially recognized as a local saint for the Thessaloniki, Demetrios has become world-renowned. From what I understand this has even affected the major hymn of his feast, the Apolytikion. It used to single him out as saying that he was an advocate of Thessaloniki, but now the hymn reads for the whole world (oikoumeni). He is still considered the patron of Thessaloniki and is often shown in icons as second in offering intercessions to Christ for Thessaloniki, only second to the Theotokos, of course.
About Andrew Athanasiou
Andrew is a student of Holy Cross Greek Orthodox School of Theology, located in Brookline, Massachusetts. Andrew is a Masters of Divinity Student who is also a Seminarian. Andrew is from Pittsburgh, Pennsylvania, and his knowledge comes from five major sources: Greek Orthodox Seminary; Greek Orthodox Summer Camp; both being taught and teaching in Greek Orthodox Sunday School; and finally further readings and interests in other theological areas.
Image Credit: Andrew Athanasiou
Categorized in: About Thessaloniki, Greece, Greek Orthodox Religious Information
This post was written by Andrew Athanasiou
Like this article? Please share below: