Transfiguration of our Lord and Savior Jesus Christ
Written by Andrew Athanasiou in Greek Orthodox Religious Information Comments Off on Transfiguration of our Lord and Savior Jesus Christ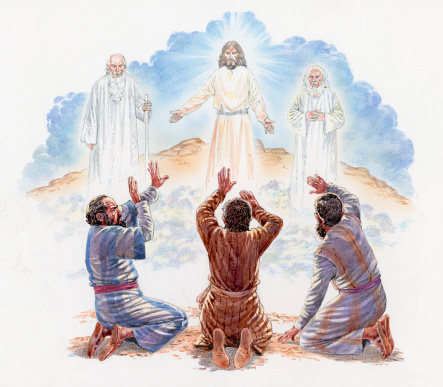 The Transfiguration of our Lord and Savior Jesus Christ is a feast that we celebrate on August 6th. It is the 11th of the 12 great feasts that we celebrate throughout the year. You may be familiar with the icon, which has Christ atop a mountain dressed in all white, covered in a "mandorla" (which means almond, and is used to describe the almond shape) of light. On two other peaks of the mountain stand two men facing Christ and 3 men below Christ, who have fallen.
We find the story of the Transfiguration in the Gospels in Matthew 17:1-9, Mark 9:2-8, Luke 9:28-36. The 2nd Epistle of Peter also references it in 2 Peter 1:16-18. My paraphrase of the story goes like this. Jesus takes three of his disciples, Peter, James and John, up a mountain. Before them, he was transfigured (), Matthew says "His face shone like the sun, and His clothes became as white as light," Mark says that His clothes "became shining, exceedingly white, like snow, such as no launderer on earth can whiten them," and Luke adds that the robe was white and glistening.
Matthew says "Moses and Elijah appeared to them, talking with Him," Mark says much of the same, and Luke adds that they "spoke of his decease which He was about to accomplish at Jerusalem." Luke is the only one to say that the disciples were in a heavy sleep, but when they awoke, as the other gospels say, Peter offers to build three "tabernacles," one for Jesus, one for Moses, and one for Elijah. A could then overshadowed them and a voice was heard saying, "This is my beloved Son, in whom I am well pleased. Hear Him!" According to Matthew, the disciples became afraid, but then Christ went to them, and tells them not to be afraid and they could see no one but Jesus Himself. Jesus tells these three disciples not to tell anyone until "the Son of Man is risen from the dead."
This is the first time those who Jesus preached to were able to see Him in His glory. St. Gregory Palamas argued that this light that the disciples witnessed was the "uncreated light of God" which through grace these disciples could witness the light.
Why Moses and Elijah? First of all, just to make sure, these two righteous men were long dead, as Moses died roughly 1500 years before the birth of Christ and Elijah lived about 900 years before Christ's birth. St. John Chrysostom says that Moses represents the Law and Elijah the Prophets. These two Old Testament figures both had unique experiences of God's existence and presence in their life on mountains. God shows his back to Moses on Mount Sinai and Elijah witnesses God in the "small still voice" on Mount Horeb (Horeb and Sinai are thought to be the same mountain by most).
Like the confusion in the Old Testament Mountains, the gospels don't reveal the name of the mountain Jesus and His disciples go up, but tradition says it is either Mount Tabor or Mount Hermon. Yet, every year on the feast of the Transfiguration, on both the Julian and Gregorian calendars, a cloud descends onto the mountain following the conclusion of the all-night vigil for the feast.
About Andrew Athanasiou
Andrew is a student of Holy Cross Greek Orthodox School of Theology, located in Brookline, Massachusetts. Andrew is a Masters of Divinity Student who is also a Seminarian. Andrew is from Pittsburgh, Pennsylvania, and his knowledge comes from five major sources: Greek Orthodox Seminary; Greek Orthodox Summer Camp; both being taught and teaching in Greek Orthodox Sunday School; and finally further readings and interests in other theological areas.
Categorized in: Greek Orthodox Religious Information
This post was written by Andrew Athanasiou
Like this article? Please share below: